About Me
Hi! My name is Jaz Laverick,
I was born and raised on an island in the North Pacific where I grew up surrounded by temperate rain forests, lakes, mountains and the endless ocean in a little town called Shirley. I eventually moved to the big city Victoria B.C. where I joined up with local musicians and took vocal lessons at the Victoria Conservatory of Music.
In college, I joined the S.C.A., and I learned how to play the harp from an instructor in the group. Through the S.C.A. I have traveled all over Canada and the U.S. performing at medieval events.
After reaching intermediate level, I bought my own harp and ventured off on my own into the world of Celtic, Folk and original music. I have been playing weddings, concerts, solo performances, busking, and community events ever since.

Books!
Welcome to the first book in the Abigail Tally series,
Eirlings
. (pronounced Air-Lings)
Abigail is a young girl with a stutter and that's not the worst of her troubles! She's been cursed with seeings things that no one else can for as long as she can remember. Even living in a magical world of enchantment wont help her if she can't cast a simple spell. She's failed every magic test from every famous University and Court Mage this side of the Capital.
At this point, it's assumed she might simply be mad.
Join Abigail as she embarks on her first day and her last test: the common city Mages Guild Test. From there she joins her snarky magic mentor on the hunt for a murderer in the Lind District, and learns the ropes of her own unique abilities. Where she's thrown into the company of gods, a Catking, and elemental spirits... and where a healthy dose of sassy commentary never killed anyone - yet.

Bardic!
I have been singing since I could speak, and I've been playing the guitar since I could hold my mother's six string. It wasn't until I moved out on my own that I found a love for the harp, and I've been playing it now for over a decade. I play a lovely Dusty Strings 26 String Celtic Lever Harp. In recent years I've picked up a Kala ukulele. My passion lies in Celtic, Folk and Medieval music.
Looking back in my diaries and notebooks, I have written countless songs. I started writing down my own music when I was 12, and I've not stopped! In recent years I've really come out of my shell and decided to dedicate time and effort into recording my favourite performances - whether popular music or my own composition. Of course, the muse is never far away and I often find myself writing new material on the heels of my last performance.
Why Laverick?
Laverick means "of the Lark" or "one who gets up in the morning and sings." It was my grandmother's maiden name, and I've been using it as a handle since I set out into the music community all those years ago.

Instruments!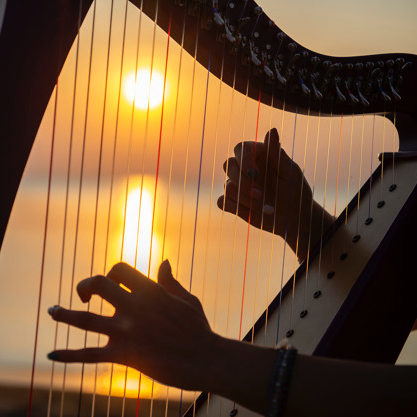 Lever Harp
Good for performance halls and any time I need that extra little oomph. The levers allow for key changes for maximum versatility and range.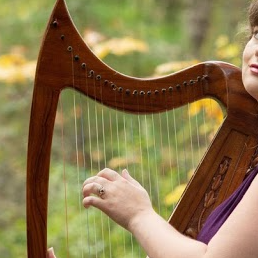 Small Harp
Portable and easy to play! I usually play this harp at events where I need to do a lot of walking!